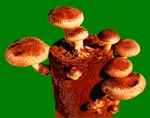 Organic Shiitake Mushroom Growing Kit
available direct from the producer in Graton, California.
This Certified Organic Mushroom Log growing kit was developed and is produced specifically for mushroom cultivation in the home.
With this kit, you can grow mushrooms easily and quickly almost anywhere in your own home or office. The kit takes only a 6" by 6" space, requires no more care or knowledge than a common tropical plant, and comes with complete instructions.
Mushroom logs will produce mushrooms virtually anywhere that room temperature is maintained - coffee table, counter, or desk.